Coral Reef Pizza&Pasta Buffet
Enjoy pizza with fries baked in our special oven. All sets include the drink bar.
※Pictures are for illustrative purposes only.
※Operation hours might change without notice."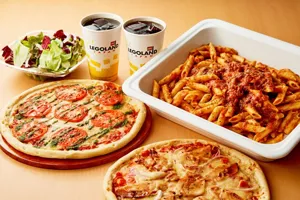 All You Can Eat For ADULT
¥2,500
All You Can Eat For KIDS
¥1,000
※ For children up to age 6
※ Children age 2 or under are eat for free.
Tomato & Cheese Pizza
BBQ Chicken Pizza
Tuna & Corn Pizza
Salami Sausage Pizza
Berry & Custard Pizza
Bolognese Pasta
Tomato Pasta
Broccoli and Tuna Oil Pasta
Shrimp and salami paella
Drink Bar