Choose from a variety of our a la carte menu options made with Japanese and local ingredients, as well as a wide variety of tap beers, wines and spirits.
Plus, dine with a view of the LEGO® skyline with scenes designed by the Resort's Master Model Builders.
Don't forget to ask for our seasonal menu as its rotated according to Spring, Summer, Autumn and Winter season. Our chefs craft the menu making sure it reflects the season. Need more info, always speak to our staff.
The excitement in the park continues in our Level 2 Play Area which is in front of Skyline Bar. This play area is exclusive for our hotel guests dining at Bricks or Skyline Bar. Parents are able to enjoy their meals and drinks more comfortably while the children enjoy the play area activities.
We also have a video game room for children, but there is no reservation for this. We encourage each child to play for 15 minutes and allow the next child to also enjoy the video game. Before you leave, don't forget to take a family picture in the games room for only 500 yen (accepts only coins).
For your sweet tooth, our dessert selections are popular amongst children. Our chef's recommended dessert for children is the 'Observation Tower Ice Cream Sundae'. It is only available during the lunch and dinner periods.
≪Did you know?≫
The window with the scenery of the big skyscrapper in the Skyline Bar is 190cm in height and 580cm in length. While your dining, the children are able to peek at the minifigures' lives inside the buildings.
Skyline Bar Opening hour
【LUNCH】12:00~14:30 
【Tea】14:30~17:00 
【Dinner】18:00~21:00 Food Last Order:21:00
【Bar Time】21:00~23:00 Last Order:22:00 Drink Last Order:22:30
* Please be aware that food facilities may be closed due to weather conditions, operating times, or other factors.
※Pictures are for illustrative purposes only.
※Ingredients and prices might change without notice.
※Offers valid while stocks last!
※No alcohol sales to minors. Do not drink and drive.
※A Service Charge is applied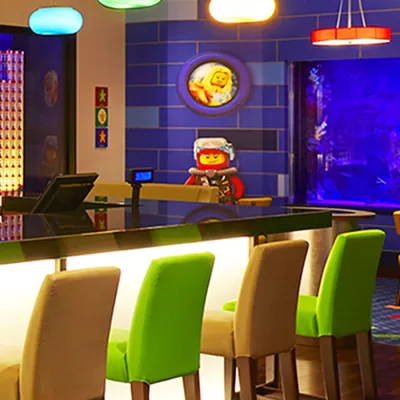 Interior with the image of a submarine
You can see the water tank of  SEA LIFE Nagoya.
While eating food at the restaurant.