ーEligible personー
・Infants, elementary school children

・Guardians (including tour conductors, nurses, and photographers)
Choose the type of Ticket down below
1DAY Pass:Enjoy a full day at LEGOLAND Japan
Combo 1DAY Pass:Enjoy a full day at LEGOLAND Japan and SEA LIFE Nagoya
ーAdmission Feeー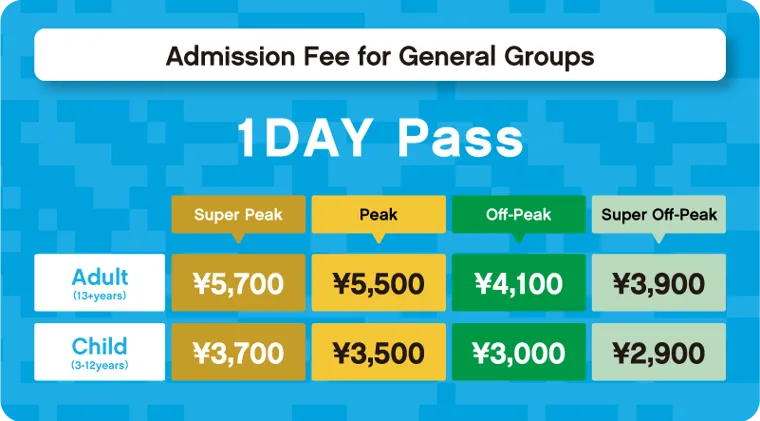 How to make a reservation
Reservations for the group program are accepted at any time by use of the reservation form on our website. Please confirm the notes described below and the calender before making a reservation. For reservations, fill in the Reservation Form and click the send button. Group Reservation Calendar(2022/10~2023/03)           
We will confirm the details of the reservation form on a first come, first served basis, and contact you by telephone or e-mail.
Please bring the Reservation Confirmation Sheet with you on the reserved date. Please purchase the tickets at the ticket counter and enter the site.
Notes
A group of at least 20 persons including adults and children is eligible for the program. Although the admission fee is free for children two years old or younger, they will not be included in the number of people in the group.
Reservations up to July 30th, 2020 can be made. Future schedules will be posted on our website when available.
We would like to ask each group to enter the site with all members of the group together. Reentry to the site is not permitted.
Certain conditions such as height, age, and whether accompanied with an adult apply depending on the attraction.
Please note that various fees and contents may change without prior notice.
The closing date of application is the 30th day before the reserving day (until 5 pm). Applications may not be received after the closing date.
We are responsible of the handling personal information we receive from our customers and it will be used only for the purpose of handling the reservation process and contacting customers at the site on the reserved day.
Please note that information contained here does not apply for tourist companies.
Change and cancel of reservation
If any change with the reservation such as number of persons or the date is necessary, please contact us at least 21 days before the reserved date (before 5 pm).
A service charge (300 yen per person) will apply when the number of persons of the group is reduced after the 21st day before the reserved date (before 5 pm).
We do not accept complete cancellation after the 21st day  before the reserved date (before 5 pm).
Changes after reservation may not be accepted due to details of the change.
■Limited time offer!We set up the special admission fee for general groups.
Group Reservation Calendar(2022/10~2023/03)