Renewal Price

Starter Annual Passport Price
Child
(3-18 years old)
¥5,900
Adult
(+19 years old)
¥8,900
Standard Annual Passport Price
Child
(3-18 years old)
¥8,300
Adult
(+19 years old)
¥12,600
Premium Annual Passport Price
Child
(3-18 years old)
¥12,400
Adult
(+19 years old)
¥16,000
About renewal period
Annual passports can be renewed from 90 days before the expiration date to 45 days after the expiration date.
* Renewal procedures cannot be performed before the renewal period. Also, if the renewal period has passed, you will need to purchase a new Annual Passport.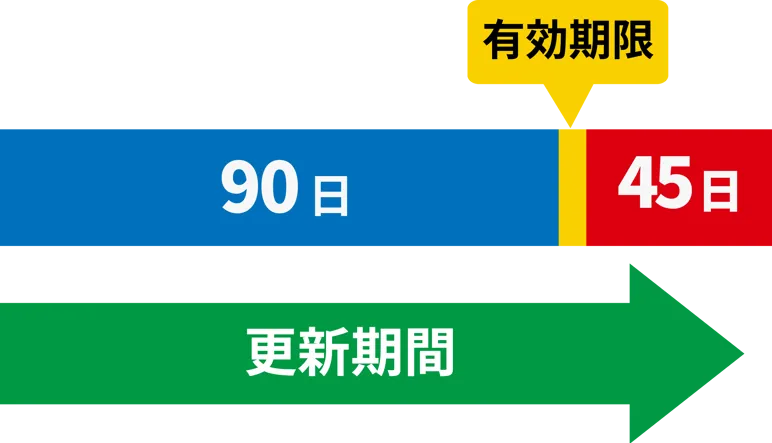 Example) If the expiration date is June 30, 2022 = The renewal period is from April 01, 2022 to August 14, 2022
Renwal Procedures
If you renew your annual passport, those who have a plastic card will automatically switch to the digital version. If you wish to use a plastic card, a separate issuance fee of 500 yen will be required.
【About expiration date after renewal】
| | |
| --- | --- |
| If you renew before the expiration date (within 90 days) | 1 year + 7 days from the expiration date of your annual passport |
| If you renew after the expiration date (within 45 days) | 1 year + 7 days from the renewal procedure date |
Please be sure to check whether your Annual Passport has been renewed in the email sent after the renewal.
Notes
Please check the following items
When renewing your Annual Passport at the counter, please bring your order number, name and date of birth (driver's license, health insurance card, passport, etc.) issued by a public institution. In addition, you will be required to present your annual passport. Please note that if you do not present your order number, identity verification documents, and your annual passport, we will not be able to create an annual passport for you.Customers who entered with an annual passport can re-enter to the park.An Annual Passport will be issued to each customer.
Purchased annual passports cannot be exchanged, changed, or canceled for any reason.
Please note that annual passports purchased on this site are not subject to the cooling-off period.
Children 12 and under must be accompanied by a person 16 or older to enter.
There are closed days. Before visiting, please check the opening date, opening time and closing time in advance.
The benefits of this Annual Pass are subject to change/cancellation without notice. Please note.