Where is the LEGOLAND Hotel located?
LEGOLAND® Japan Hotel is a walking distance from the front gate of LEGOLAND Japan.
The hotel address is 2-7-1 Kinjoufutou, Minato-ku, Nagoya-shi, Aichi 455-8605, Japan.
Contact us
How can I make a booking for LEGOLAND Hotel?
Bookings can be made online with only a few clicks through our website.
What is the cancellation policy?
Cancellation Policy:
Reservation cancelled 1 day prior to arrival, 100% cancellation fees will apply.
Reservation cancelled 2-7 days prior to arrival, 50% cancellation fees will apply.
Reservation cancelled 8-20 days prior to arrival, 20% cancellation fees will apply.

Cancellation Policy for Reservations with Flexible Booking Option: You will be able to change or cancel your reservation up to one day prior to your arrival with Fleixible Booking Option. Any changes to your reservation are subject to availability and new room rates may apply. If cancellation occurs up to 1 day prior to scheduled arrival date, then full payment is refunded in the original form of payment, minus the non-refundable Flexible Booking Option fee. You can purchase Flexible Booking Option up to 21 days before your arival date.
Can I change my reservations?
Yes. Please click the button on the right bottom "Change/Cancel" on our Reservation screen.
You may change your reservation date but it will be subjected to availability of the date requested.
The room rate varies from day to day depending on the period.
What is the deposit and payment policy?
Payment for Room charges and other Enhancements is required upon reservation.
Is the rate charged per person?
The rate is price per room.
The rate applies per room within the maximum capacity for the room.
The room rate is inclusive of breakfast based on the number of room capacity.
What is the age category for Adults and Children?
Children age is from 3 to 12 years old. Adults age are from 13 years and above.
Maximum occupancy for Theme and Premium rooms are for 2 adults and 2 children.
Maximum occupancy for Premium Plus and Suite rooms are for 2 adults and 3 children.
What credit cards can I use for making a reservation?
VISA・MASTER CARD・JCB・DinersCLUB
Can I reserve a specific floor?
Each floor is designated with a Theme. You may choose your preferred Theme.
Is breakfast included in all room rates?
Yes, breakfast is complimentary for all guest in the room up to 4 or 5 persons depending on the room booked.
Where can we get the Combo 2 Day Pass which is included in the package?
The ticket is available at the Hotel Reception from the morning of your arrival date.
What does the Combo 2 Day Pass Ticket exclusively for Hotel Guest entitles me to?
You will be able to enjoy entry to both the LEGOLAND Japan and Sea Life Nagoya on your day of arrival and the following day. The pass allows you to enter the LEGOLAND Japan multiple times as well.
How many different themed rooms are there?
There are Five themes – Pirate, Kingdom, Adventure, NINJAGO and Friends.
How many people does each room sleep?
Themed and Premium Themed rooms can accommodate up to four (4) occupants, two (2) adults and two (2) children. Each room includes one (1) Queen size bed and one (1) bunk bed (2 beds). 
Does the Hotel offer accessible rooms?
The Hotel offers one (1) accessible rooms. Please ask us the availability when you make a reservation.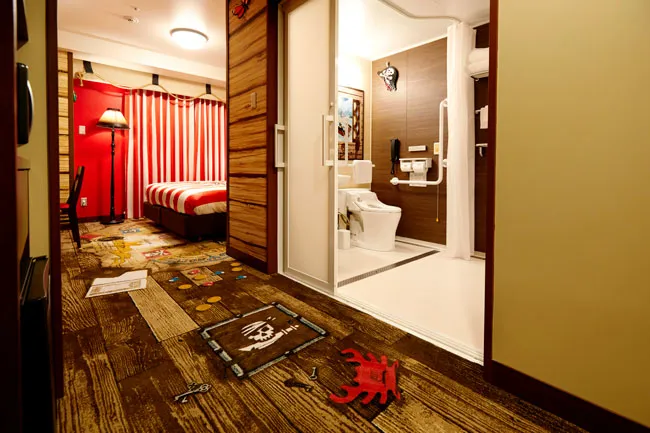 Are there bathtubs in the bathrooms?
Yes, bathtubs are available in all rooms.
Are there any smoking rooms?
All our guest rooms are non smoking. For guests that requires to smoke, you can visit our smoking room at 1st Floor outside the hotel.
What is the room with view facing?
The room is facing the view of LEGOLAND® Japan Park.
Do you have pajamas in the guest rooms?
We have Yukata for both Adults and Children. Length of Yukata : Adults 155cm-175cm / Children 105cm-125cm (target age is between 7-10y.o) 
Do you have a bed guard?
 A bed guard is set in all rooms.
Can children sleep on the bed with parents?
Children 2 years old and below can sleep with parents. Rental of baby cribs are available with limited numbers. Please ask us on the availability when you make your reservations.
Is there a storage space for my luggage if I arrive before the check in time or after my check out?
Yes, you can store your luggage on day prior to check in or after your check out in our luggage room. Please contact Concierge for assistance.
Is there a pool in the hotel?
We have a children's water play area located on the 1st Floor. For more details, please check "Water Play Area" under the HOTEL BENEFIT page. 
Is there parking at the Hotel?
LEGOLAND® Japan Hotel does not have dedicated parking lots, please use "Kinjo Futo Parking". Access by car to the hotel lobby is available for luggage drop and pick up.
It is possible to walk with your luggage from Kinjo Futo Parking to the hotel through Maker's Pier. Elevators are available.
Limited number of disabled parking lots are available at the hotel.
Do you have a coin operating laundry?
Unfortunately, we do not provide coin operate laudry service in the hotel.
Do you have a meeting room?
We do not have meeting rooms available in the hotel.
What is the check-in and check-out time?
Check in 4:00 p.m, check out 11:00am.
Late departure and early arrival is available for a fee but depending on hotel occupancy.
Do you offer complimentary bus service from Chubu Centrair International Airport?
No, but please click here  for more details.  
Can I send my luggage to the Hotel before I arrive?
Yes. Please arrange the luggage to arrive either 1 day before your arrival or on the day of your arrival. Please indicate a name similar as the room reservation. Please note that we will not accept the luggages if the name is not similar to room reservation name or if the luggage doesn't have a name at all.
Are pets allowed in the Hotel?
Pets are not allowed in the Hotel.
How many restaurants will the Hotel offer?
The Hotel will offer 2 food and beverage outlets. Bricks Family Restaurant and Skyline Bar.
Can I dine at the Hotel Restaurant if I am not staying in the hotel?
Yes, the restaurant is open to the public for dining.
Is Room Service available?
Yes, it is available from 5pm to 9pm daily.
I have a food allergy. Does the park and hotel provide low allergen foods?
There are three restaurants in the park and two restaurants in the hotel providing low allergen foods. 
Low allergen food information is available on the website.

If you have any further questions, please contact our Call Center. 
Please click the link below for low allergen food information.
Park Restaurant Low Allergen Foods
Hotel Restaurant Low Allergen Foods
Can I check allergen information in advance
Park Restaurants & Food Stands
Allergen information for menu items sold in the park restaurants and food stands is available on the website. Please ask staff about the menu items not on the website. Also, please confirm the latest allergen information before you purchase in the restaurants and food stands.
Park Restaurant Allergen Foods

Hotel Restaurants
Allergen information for low allergen menu items sold in the hotel restaurants is available on the website.
Please ask staff about other menu items not on the website. In the Bricks Family Restaurant, the 7 
allergens labels required by Japanese law are displayed on the menu name cards.
Hotel Restaurant Low Allergen Foods
Contact us
Telephone inquiries:
 0570-05-8605
E-mail:
Legoland.Reservation@legoland.jp
Business hours:
9:00-17:00
LEGOLAND Japan/SEA LIFE Nagoya(Available year-round)
LEGOLAND Japan Hotel(closed on Wednesdays, and Sundays)
*The telephone number for international calls is 050-5840-0505
*Automated information is available 24 hours a day.
*Telephone charges are the responsibility of the caller.
*Telephone inquiries are recorded to confirm content and for further service improvement.