2021/9/17 (Fri) ~ 2022/1/10 (Mon)
※All prices listed are tax inclusive.
※※Important Notice※※
For safety concerns stemming from COVID-19 related to crowding、

this ticket will not be available for purchase at the Ticketing Windows.


This ticket is available for purchase from our official website, Seven-Eleven Japan and official partners.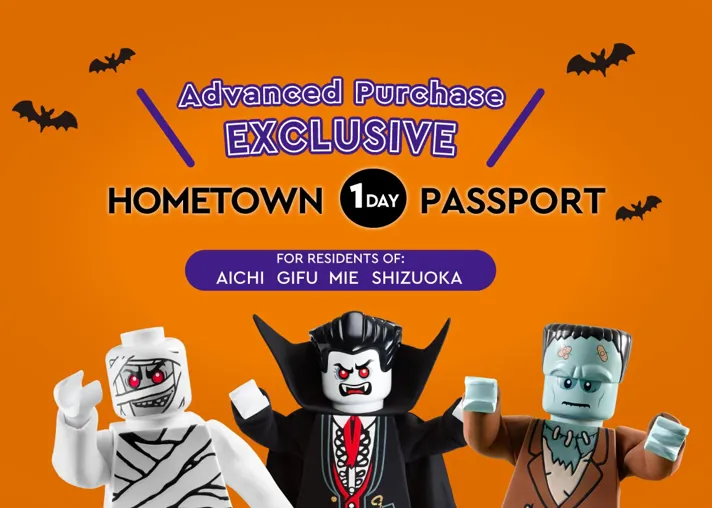 Exclusive to Tokai residents of Aichi, Mie, Gifu & Shizuoka Prefectures! LEGOLAND Japan is proud to "re"-introduce our [Hometown 1DAY Passport] from September 17th, 2021. Shortly afterwards, we will also be launching this year's [Brick or Treat] Halloween from Saturday, October 2nd, 2021. Based on the concept of "The 'cutest' Parent-Child Halloween in History", come and enjoy a fun-filled spooky experience like no other!
This Fall, for those "Family Moments that Won't Wait", LEGOLAND Japan has you covered, in true Halloween spirit!
 

Hometown 1DAY Passport

On Sale

2021/9/15(Mon)12:00 ~ 2022/1/10(Mon)

Price

Adult:¥4,600

Child:¥3,400

Terms

Available exclusively to Tokai residents who reside in one of the following prefectures:

Aichi, Gifu, Mie & Shizuoka.

Entrance Dates

2021/9/17(Fri) ~ 2022/1/10(Mon)

 

How & Where to Buy

Due to safety concerns stemming from COVID-19, this ticket will only be available for purchase form the vendors listed below.

※This ticket is not available for purchase from our Ticket Windows.

LEGOLAND Japan Official Website

Seven-Eleven Japan 

Official Travel Partners (※Sales periods may vary)

In-Park Upgrade to Annual Passe(s)

This ticket can be upgraded to an Annual Passport for an additional fee. Please visit our Guest Services for more information.

※The prices below are based on our Annual Pass Upgrade Campaign, which is scheduled to begin on September 17th, 2021.

Starter Annual Pass

Adult:¥2,500円

Child:¥1,300円

Standard Annual Pass

Adult:¥7,100円

Child:¥4,300円

Important Note(s)

Please have official proof of residence available upon your arrival at LEGOLAND Japan (i.e. Driver's License, Health Insurance Card, Residence Cards, etc). You may be refused entry and/or asked to pay the difference of the entrance fee(s) of the given day if sufficient proof is not available.
All orders are non-refundable, and changes (such as dates/ticket types) and cancellations will not be accepted. Please click here for our full list of terms and conditions.
Related Items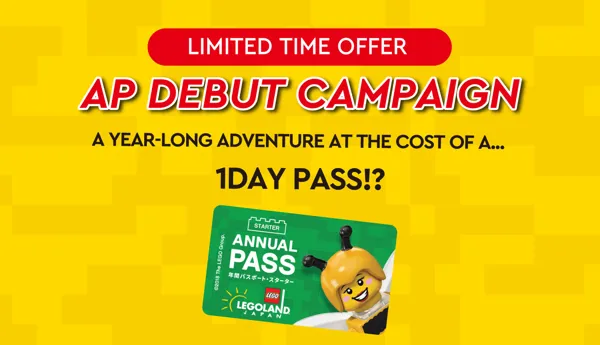 Annual Passport DEBUT Campaign!
A year-long adventure at the cost of a 1DAY Passport!? Now's the perfect time for your child (or your "inner-child") to make their debut, with their very own LEGOLAND Japan Annual Passport.
2019/9/17(Fri) ~ 2022/1/10(Mon)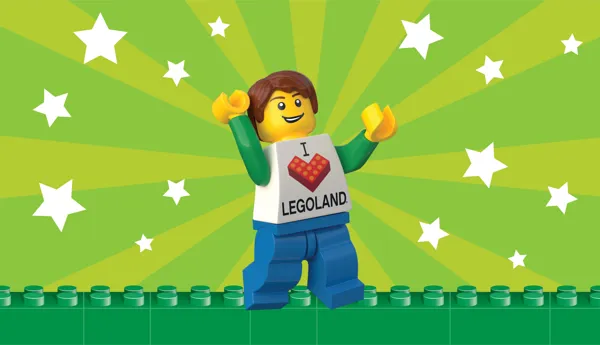 In-Park Upgrades
When one day of Precious Family Moments just isn't enough, why not make it last? Take advantage of our In-Park Upgrade offers to one of our Annual Passports!
2021/9/17(Fri) ~ 2022/1/10(Sun)